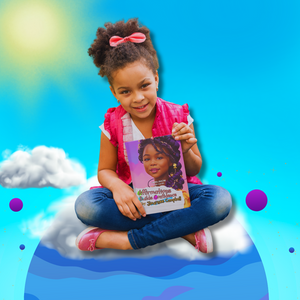 **PRE-ORDER** AFFIRMATIONS BUILDS CONFIDENCE
Unlock the power of self-belief and embrace unshakable confidence with "Affirmations Build Confidence," a heartwarming and empowering book by the remarkable young author, Journee Campbell.
In this delightful and beautifully illustrated book, Journee takes young readers on a transformative journey of self-discovery. Through a collection of uplifting affirmations, she encourages children to embrace their unique qualities, celebrate their strengths, and develop a strong sense of self-worth.
With each turn of the page, Journee's affirmations come to life, inspiring young minds to believe in themselves and their abilities. From "I am amazing" to "I am talented," children will learn the importance of positive self-talk and how it can shape their outlook on life.
Through relatable and easy-to-understand language, Journee empowers young readers to face challenges with courage, overcome self-doubt, and cultivate a positive mindset. Each affirmation is thoughtfully crafted to resonate with first and second graders, making it a perfect tool for building confidence and self-esteem.
"Affirmations Build Confidence" is not only a book, but a powerful resource for parents, educators, and caregivers seeking to instill a strong foundation of self-belief in children. The affirmations are designed to spark meaningful conversations and help children understand the value of self-love, resilience, and embracing their unique qualities.
As a bestselling author, Journee Campbell has captivated young minds across the country with her previous book, "The Little Voice In My Head" (Alphabet Affirmations). Now, she continues to inspire and uplift with her newest creation, "Affirmations Build Confidence."
Empower your child to embark on a journey of self-discovery, growth, and unshakable confidence. Grab your copy of "Affirmations Build Confidence" today and join Journee on an empowering adventure that will leave a lasting impact on young hearts and minds.
Beyond her success as an author, Journee's impact extends far beyond the pages of her books. She has embarked on a remarkable journey, touring elementary schools across the United States, where she has captivated young minds with her personal story and the profound power of literacy. Journee's ability to inspire children to embrace the joy of reading and the transformative effects of positive affirmations is truly awe-inspiring.
Recognized for her exceptional achievements, Journee has been honored with esteemed awards and accolades. Her contributions to literature and her dedication to spreading literacy have garnered her The New York State Proclamation from NYS Senator Jeremey Cooney, a Special Mayoral Recognition from Mayor Malik Evans, and the distinction of being named a Women's History Month Honoree by The City of Rochester's Mayor's Office.
Journee's passion for empowering others through her words and actions shines brightly, making her an extraordinary role model for aspiring young authors and readers alike. Her unwavering commitment to making a positive difference in the world continues to inspire us all.